The Connect Tool is one of 3rd PlanIt's most powerful drawing tools. The Connect Tool is used to connect track to existing trackwork, trimming the existing track into exact alignment with the new track. It can connect existing track with lines, circles, easements and turnouts to quickly try a variety of different designs. Of particular value is its ability to connect existing track segments with an exactly positioned turnout with the Connect Turnout tool.
The Connect Tool also generates Paths from one track segment to another. Paths are used to set grades, which can be adjusted by height while you see the grade change, or by grade while you see the height change. Finally, the Connect Tool is used to design 3D Objects and Terrain, by connecting existing Polygons or Contour Lines.
Using the Connect Tool
These demonstrations use the Color by Object Type option to clearly show the tangent, easement and curved sections. At the end of some animations, the display is changed to Color by Layer mode, making the trackwork black to show the smoothness of the connections made with this process.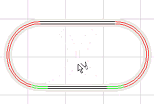 The Connect Tool in Connect Direct or Connect with Easement mode when you are drawing. Click two existing objects to create the new track and automatically trim the existing track. When connecting, you may click the right mouse button to swap tangent sides. Click for animation (126K)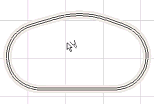 To design broad, sweeping curves with the Connect Tool, you can hold down the Control key while connecting from a circle to end the track at any point on the drawing. After placing both tangent tracks, once again use the Connect Tool to connect them with a large radius curve. Click for animation (153K)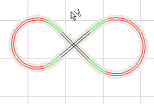 The Connect Tool makes Figure-8's a snap, with or without easements. You can click the right mouse button while connecting two lines to change the curve from an inside to an outside connection. Click for animation (175K)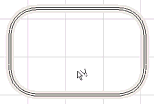 With the Connect Fixed mode you can join track at a specified radius, with or without easements. In this example, four tracks are drawing horizontally and vertically, then connected with fixed radius connections and easements. Click for animation (247K)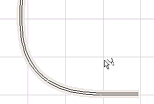 The Connect with Easement mode will also join an existing curve to an existing tangent track. In this example, the Draw Transition Curve tool was used to align a curve to the tangent track before connecting them with an easement. Click for animation (174K, this one's fun!)

3D Connections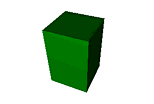 You can design simple or complex 3D objects by drawing polygons and connecting them. In this example, the Connect Polygons tool is used to create a cube from two square polygons. Click for animation (254K)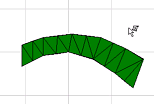 Terrain is made in 3rd PlanIt by drawing two Contour Lines and connecting them with the Connect Terrain tool. Contour lines may be set to any elevation, and may change elevation along their length. Click for animation (175K)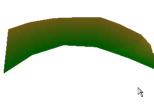 Color Blending is accomplished easily. Whenever two contour lines are connected and either of them is NOT black, the resulting terrain is color-blended across its surface. Click for animation (185K)