TrackPlanning.com
NY Signal drawn
with 3rd PlanIt by Walter Griffin


The Premier Track Planning Tool for All Scales

Order 3rd PlanIt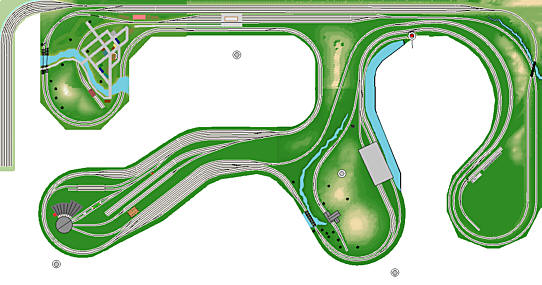 Version 10 offers you unparalleled design capabilities for your railroad layout. Built on a strong, innovative set of design tools, the new 3D terrain and landscape features let you really visualize your layout like never before. Its powerful Dynamic Design Tools™ let you quickly build precise track of any design. And a comprehensive suite of 3D Object Design Tools let you craft buildings, rolling stock, equipment, automobiles, cranes, boats and just about anything you can imagine.
High-speed, textured, 3D rendering brings life to your track plan. You can position your viewpoint at any location to evaluate your design. And when you're done, you can print 1:1 Cross-Sections so you can cut bulkheads for the terrain you've designed. 3rd PlanIt is a complete package, from CAD design, to simulation, to aids for building your design.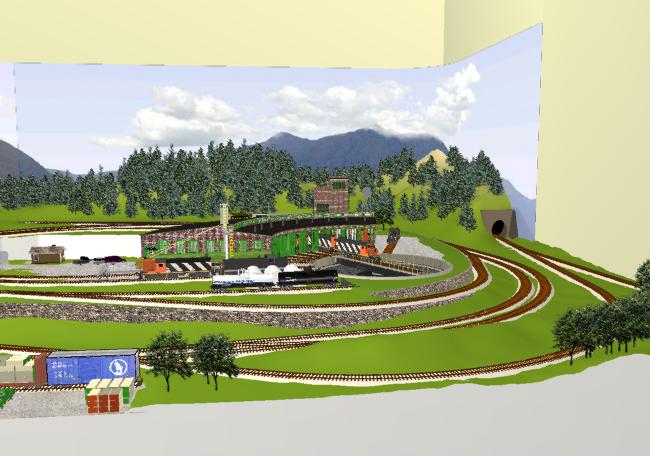 Take a tour through Gerry Baldwin's HO layout, complete with backdrop, tunnels, rolling stock, terrain and buildings. He's even entered his layout room in detail, complete with desk and chair, carpeting and transparent windows, With 3rd PlanIt, you can plan your layout to whatever level of detail you like! Click to play movie, 75Mb
The Standard Library with Automatic Rescaling makes all objects available in all scales so you can easily place buildings and rolling stock in any scale drawing. This allows you to easily use buildings designed for another scale in your track plan as placeholders, or templates for scratchbuilding.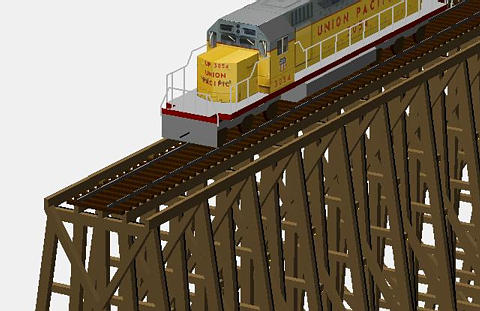 Other recent additions allow you to rotate, tilt and roll objects around their centers. The new Multi-Sense User Interface offers every user a work environment they find preferable. If you're a user of AutoCAD* or another program with a "Click-Move-Click" interface, you'll be right at home on this new version of 3rd PlanIt. In its standard mode, you can free intermix "Press-Move-Release" control with "Click-Move-Click". Or, you can set the program to use only a single interface style, optimized for familiarity and convenience.
Modelers who enjoy detail can explore the limits of their imagination with 3rd PlanIt. As shown in Sunrise Feed Mill, you can model any object to any level of detail that you find satisfying. Scratch builders can design each piece and fit a model together before cutting any wood or plastic - and print 1:1 plans from which to fashion the pieces.
To learn more about 3rd PlanIt, download this Tutorial (2.1 Mb) in Adobe Acrobat format (PDF). If you don't own the Acrobat Reader, you can download it from Adobe.
Demo
If you would like to try 3rd PlanIt, you may download this Demo Version. 3rd PlanIt supports Windows 95, 98, NT 4.0, ME, 2000, XP, Vista and Windows 7.
Ordering Information
Click here to place an order for 3rd PlanIt!
Testimonials
I want to thank you so very much for all of your help. I know that I will continue to be very pleased with 3rd Planit. I have tried a number of other CAD programs designed for model railroading and yours is by far the most intuitive that I have come across. The features that you have written into the program are much more elaborate and make the use of 3rd Planit much easier and more enjoyable. That is why I have chosen your program and believe me, I will definitely be recommending it to others.

As you know through our phone conversation , I am dyslexic and learning certain things, especially new programs that are very technical are difficult for me. If I can say this after only a short while using 3rd Planit, a person without my challenges should be able to fly through the learning curve and be making beautiful layouts in no time. When I say beautiful, I really mean it. I have seen layouts that have been designed by others that have literally taken my breath away.

My very best wishes to you,

Steven Scott
Lebanon, Oregon
Thanks so very much, Randy.....you're a prince of a guy. You need anybody to toot your horn, let me know. I've mentioned your program and shown my layout drawings to my local hobby shop and they were impressed. Being a retired draftsman, I KNOW a good program when I see one and 3rd PlanIt is the best of the bunch hands down!
Best regards,
Gord Schneider
Mississauga, Ontario
Great product btw... have used it to plan and build at least seven layouts for my custom layout building service. HO scale, O scale, and even a football field sized G scale layout. The 3D feature is a real "seller" when clients are looking at my ideas.

Regards,


Dave MacLean
Works perfectly on my MacBook Pro. Great program. Singing your praise with my club members. Thanks.
Michael Collins
Architect
I also compared your program to Cadrail and I was amazed at the quality difference. You're the winner.

gh
Well I got to the "right" man then. Thanks for the response to help me breathe easier... that is an awesome piece of software. Very glad I bought it over the other couple of choices!
Best regards
Chuck