New Customers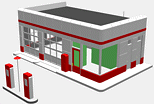 Purchase of 3rd PlanIt entitles you to download the program and free maintenance upgrades to your current version for two years from a private customer web site. You will receive your serial number and the Customer Site URL via e-mail, generally within 24 hours of receiving your order. Please see bottom of this page for telephone, email and snail-mail information.
We accept VISA, MC, Amex and Discover cards, as well as PayPal.
Special notice: I will be out of town on business until approximately October 25. All orders will typically be processed within 24 hours. If you order hardcopy, you will receive a serial number to enable the downloaded version when your order is processed. Hardcopies will be shipped upon my return. Thank you, Randy
Email notifications: Your confirmation email will contain your User Name and Serial Number when it is processed. The email contains links to useful sites, including the customer page containing complete download and version information. Because of these links, spam checkers will occasionally route this email to your Spam or Junk folder inadvertently. It is important that you mark *@eldoradosoft.com or the domain eldoradosoft.com to your Safe Senders list! If you do not receive a confirmation in a reasonable time, please check your Spam/Junk folder. Please be aware that El Dorado Software is staffed by one individual, who writes the program and processes orders. There may be a delay of 1-2 days in some cases due to holidays or travel schedules. Typically your order is processed within 24 hours. I make every effort to ensure your satisfaction! If you are in question about your order, please call +1-916-382-9035 to get assistance.


Description
Price
To Order
3rd PlanIt
(Internet download)
US $124.95
Includes downloadable
documentation
3rd PlanIt complete
CD, manual, and
optional download
US $159.90 + $10.00 S&H
United States/APO only
3rd PlanIt
Backup CD
US $5.00 + $7.00 S&H
United States/APO only
3rd PlanIt
Hard-copy manual
US $29.95 + $10.00 S&H
United States/APO only
3rd PlanIt
Backup CD and
hard-copy manual
US $34.95 + $10.00 S&H
United States/APO only
3rd PlanIt
Backup CD
(outside US)
US $5.00 + $25.00 S&H
International
3rd PlanIt
Hard-copy manual
(outside US)
US $29.95 + $25.00 S&H
International
3rd PlanIt
Backup CD and
hard-copy manual
(outside US)
US $34.95 + $25.00 S&H
International
Purchase of hardcopy items requires collection of 8.75% sales tax on the total cost. International purchasers may be charged customs fees beyond these prices.
Upgrades for Previous Customers
Purchasing 3rd PlanIt entitles you to two years of free updates from the date of purchase. When your original license expires you may purchase a 2-year upgrade license for a reduced price. Upgrades entitle you to an additional two years of released maintenance as well as a full release upgrade should one occur. If you wish to order a Backup CD and/or hard-copy documentation, choose those options from the table above.
Please include your current serial number with your order! Use the "Instructions to merchant" field when submitting your order on-line.
Description
Price
To Order
3rd PlanIt upgrade
(Internet download)
US $64.95
Includes downloadable
documentation
Master Training
Master Training© for 3rd PlanIt Users
El Dorado Software is now offering one-on-one Master Training for all registered users of 3rd PlanIt. You can spend time asking questions and getting pointers from the developer of the program, Randy Pfeiffer.
Unlike a manual, in Master Training you can ask questions and get answers pertinent to your situation. It doesn't matter whether you are a Newb or have worked with 3rd PlanIt for over ten years, you'll be able to learn the information you need, quickly. Furthermore, since Master Training is actually a personalize conversation, your trainer will be able to present things in terms familiar to you, in a style that makes sense for you, and in the order you'd like to learn.
If you're at your computer during the training, you will be able to use the concepts being discussed as you learn them. Should a problem arise, it's easy to save your work in a file and send it to your trainer, who can resolve your issue hands-on. If you've encountered a stumbling block while designing, you can email or post your design file so that it's available to your trainer prior to your session.
The whole goal of Master Training is for you to learn how to use 3rd PlanIt quickly and get on with your real task - designing your new layout. And, since you're paying for Master Training, you don't even have to crack open the manual. If you'd prefer to learn by doing rather than reading, that's for you to decide and for us to make happen.
Your satisfaction with Master Training is guaranteed. If you are not satisfied with your training after the first 30 minutes for any reason whatsoever, just say so. We'll cheerfully refund your entire payment for training, regardless of how much training you originally purchased.
How It Works
You can purchase Master Training in one-hour increments. Master Training costs $50 per hour, or $60 per hour for Extended support that includes Saturdays. Hours for this service are 8-5 Pacific Time. If you want the ultimate in support privileges, $75/hour provides Premier assistance 7 days a week, 8-8 Pacific Time.
You can use an hour of Master Training in one session, or in chunks of 15 minutes as you require. However, it is necessary to manage time, so each phone call counts for 15 minutes at a minimum, with time rounded up to the next 15 minutes if the call lasts longer.
Please note that all hour-long sessions and any weekend support should be scheduled in advance. As you may know, El Dorado Software is a one-man company, so it's quite possible that you won't get an answer outside of normal business hours if you haven't scheduled in advance. While we will do our best to provide support for Premier customers on an as-needed basis, we do not guarantee availability outside of normal business hours without pre-scheduling.
To set up Master Training, please select the training option that's best for you. Place an order for support in one-hour increments using the Quantity field. Include your preference for the time and date of your training (or first training, if appropriate) and make sure your phone number is correct. We'll get back to you as soon as possible to confirm your appointment or to suggest alternatives. The primary contact will be through e-mail, but the telephone may be used as an alternate means of contact.
Master Training time is limited. Only a few hours per day will be allocated to Master Training, to allow continued development and support of 3rd PlanIt. While we will do our best to meet your preference, it may be necessary to work out an alternate schedule. If we can't make a schedule that works for you, your payment will be cheerfully refunded.
This is a no-risk opportunity to learn the inner secrets of 3rd PlanIt, or to come up to speed quickly using the tools you need first. We hope you'll enjoy your time!
Description
To Order
Master Training
Randy's Private HO-scale Sale
I'm selling a selection of locos, rolling stock and structures, all in excellent, mint or NIB condition. Please visit this page.
Privacy Statement
Your personal information is held in the strictest of privacy. It is not shared with or sold to anyone in any way.
Ordering Information
You may order by Internet or telephone. If you order by Internet, you may elect to send a check for payment.
International customers: El Dorado Software ships internationally three times per week, M-W-F. Orders must be received before 0600 Pacific Time (GMT-8) on an international shipping day, or shipment will occur on the next international shipping day. Danke für Ihr Interesse. Dank u voor uw interesse. Merci de votre intérêt. Gracias por su interés.
Telephone

+1-916-382-9035

Electronic mail

Please call El Dorado Software between the hours of 8am and 5pm Pacific Time, or you can reach us by e-mail 24 hours a day.